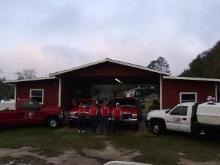 Located in Williston, FL Priest Pest Control Inc is the right choice for your home, business or farm.

We are locally owned & operated and make customer satisfaction our absolute priority. We work hard for all of our customers, ensuring they are completely satisfied with our services.

We know bug problems are a big concern, so we provide a quick response to every call we get. We do a though work that you can depend on, no matter what type of pest issues you maybe experiencing.

We serve many commercial, residential & agricultural customers throughout the tri-county area and would be honored to serve you too. We believe in doing quality work. We never require our customers to sign long-term contracts, we are your hometown pest control company. If you need prompt, dependable services, remember that we are ready to get to work for you right away.

Call us today for your free estimate or to learn more about our experience serving the local community.

We look forward to working for you.

Our services include:

Residential Household Pest Control

Commercial Pest Control

Agricultural Services

Termite Control

Fleas / Ticks

Rodents

Bees & Yellow Jackets

Fire Ants

Bed Bugs

Lawn Pests

Spiders

Nuisance Wildlife

Coyotes, Hogs & Bobcats



Visit us on Facebook


Employee WebMail

Leviticus 11:20 "All winged insects that go on all fours are detestable to you"